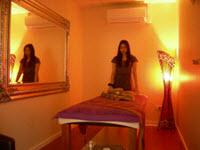 Lindfield Thai Massage Therapy provides an upmarket relaxation massage experience. Thai masseuses selected for their skills and grace provide a premium service to pamper and rejuvenate the tired and jaded mind and body. A modern bathroom / shower with soft towels provide more comforts than most establishments on the North Shore.
Are you looking for a good strong Thai oil massage at a great price? Lindfield 346 Pacific Highway is positioned in the middle of Lindfield shopping strip, with rear access from the car park.


Lindfield 346 Thai Massage Therapy
Click on any photo for more information.
Lindfield Thai Relaxation Massage
346 Pacific Highway
Looking for the best in Thai Massage near Lindfield, Roseville, Killara or Pymble? 
(Direct dial on mobile phones)